Welcome Mark Bailey & 2020 HBA Board of Directors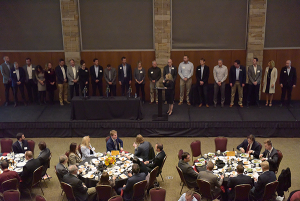 The Home Builders Association of Metro Denver (HBA) held its Annual Gathering of Members meeting in October that drew nearly 400 prominent builders, developers and associate members in the industry. View Event Photos Here
Chérie Talbert, HBA CEO performed the roll of Installing Officer, inducting HBA Board President Mark Bailey of Toll Brothers, along with the new 2020 HBA Board of Directors during the event.  2020 Board Members are listed below.  The new Board of Directors' term begins on December 1st.
Mark Bailey, Toll Brothers, 2020 Board President
 Angela Harris, TRIO, President-Elect
Jeff McGovern, William Lyon Homes, VP - Secretary
 Randy Carpenter, KB Home, VP - Treasure
Heidi Majerik, Southern Land Company - Immediate Past President
 Heidi Tackett, Colten Mortgage – Council Board Chair
Jennifer Williams, KGA Studio Architects – Council Board Representative
 Beth Avedis, Heritage Title
Peter Benson, Koelbel & Company
 Jason Brown, Ascent Builders
Devin Bundy, McClure Concrete
 John Cheney, Lennar
Nathan Colburn, Accessible Systems
 Tim Craft, Craft Companies
Rick Dengler, Brookfield Residential
 Ricarda Dietsch, Taylor Morrison
Dawn Duhamel, Possibilities by Design
 Philip Eidenschink, PEAK Staffing Group
Aaron Foy, BLVDWAY Communities
 Jason Hanson, Joyce Homes
Michelle Hartley, Focus 360
 Dave Jackson, Jackson Design Build
Karl Knapp, CVL Consultants
 Greg Krause, K2 Residential Solutions
Melissa Lambrecht, Consolidated Construction Management
 Dave Lemnah, Lokal Homes
Jay Mankamyer, Fox Rothchild
 Rod Mickelberry, Cardel Homes
Scott Moberg, Joyce Homes
 Brian Mulqueen, Century Communities
Stephen Myers, Thrive Home Builders
 Tracy Sandoval, Meritage Homes
Andrew Slump, Wonderland Homes
 Scott Thorson, Oakwood Homes
Brian Wilson, CVL Consultants
View more details about the 2020 HBA Board of Directors and their positions.