+
Member Companies...and Growing
Founded in 1943, the Home Builders Association of Metro Denver is a private, non-profit 501(C)(6) professional trade organization that represents homebuilders, developers, remodelers, architects, mortgage lenders, title companies, subcontractors, suppliers and service providers in the eight metro-area counties we serve. HBA members are also members of the Colorado Association of Home Builders and the National Association of Home Builders.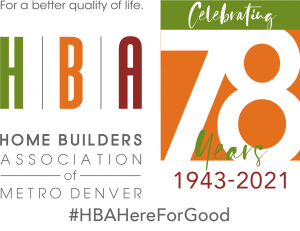 The HBA of Metro Denver is the largest HBA in Colorado. We're devoted to providing our members with advocacy, networking opportunities and education so together, we can continue improving the homebuilding industry.
How we help our members:
We work with state and local policy makers to create a regulatory environment that supports a vibrant and affordable housing market.
The HBA also publishes two periodic e-newsletters, so you can stay on top of association and regulatory activities:

Pulse on the Industry email Newsletter provides you with a periodic digest of important stories shared on hbadenver.com
Home Builder Events weekly emails keep you up to date with HBA events and activities

Our education and certification programs help expand our members' professional expertise.
We showcase the latest in housing technology and trends — along with the benefits of owning a newly built home— through our Parade of Homes and the North Metro Tour of Homes.
Our many councils and committees give members a way to hone skills, create long-lasting relationships and shape the industry's future.
We host several events during the year where members can swap ideas, grow their networks and build relationships.
Our charity of choice, The Home Builders Foundation offers a way for our industry to give back to the community.