About the Young Leaders Council
Our Mission
The HBA of Metro Denver Young Leaders Council (YLC) is dedicated to promoting, enhancing and supporting young leaders within the home building industry. We will do this by:
Providing professional development resources.
Encouraging career development and recognition within the industry.
Promoting and supporting community involvement.
Providing networking opportunities with leaders in every facet of the industry.
Who We Are
The Young Leaders Council (YLC) is the newest council of the HBA of Metro Denver. We are in our founding year and are striving to create a vibrant and fun group where we can connect with other young leaders, enhance our careers, and get involved in the community. Any HBA member under the age of 40 is welcome to join.
Why Join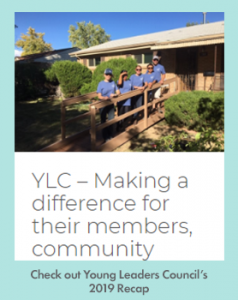 If you are new to the building industry or would simply enjoy connecting with other young professionals in building, you should join! We will feature the following events and resources for our council members:
Connections and Coffee in partnership with Professional Women in Building Council – Buy Your Own Breakfast and Networking
"Young Leaders & Libations" Event – Happy Hour & Activities
"YLC Grub Club" – Leadership and Personal Growth Luncheon
Annual recognition with the "Young Leader Award" at the MAME Awards
Mentorship Program
Book Club
Community Volunteer Opportunities
The quarterly educational, BYOB, and Grub Club events are open to all members and prospective members of the HBA's Young Leaders Council.  The Young Leaders & Libations events are open to all members as well! Membership in the council is open to all HBA members under the age of 40.   We invite and encourage all other HBA members wanting to meet and mingle with Young Leaders Council members to attend these events!
Now Available: Our full Calendar of Events for 2020 as well as Council Sponsorship Opportunities!
Check out a quick video about a previous Leaders & Libations event:
Thank You to our Sponsors:
Board Leadership
2020 Executive Team
Chair: Brian Wilson, CVL Consultants, 720-249-3588