About the Young Leaders Council
Our Mission
The HBA of Metro Denver Young Leaders Council (YLC) is dedicated to promoting, enhancing, and supporting young leaders within the home building industry. We do this by:
Providing professional development resources.
Encouraging career development and recognition within the industry.
Promoting and supporting community involvement.
Providing networking opportunities with other young professionals and industry leaders.
Who We Are
The Young Leaders Council (YLC) is a vibrant and fun group of young professionals in the homebuilding industry. Over the past 6 years, we've been creating opportunities to connect young leaders, help them further their skillset, and grow their involvement in the industry and the community at large. Any HBA member under the age of 40 is welcome to join.
Why Join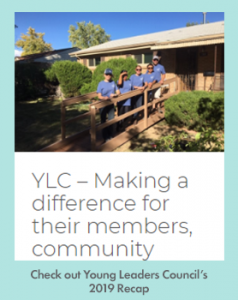 If you are new to the building industry or would simply enjoy connecting with other young professionals in building, you should join! Here are a few of the events we host throughout the year:
"Eats & Inspiration" – Leadership and Personal Growth Luncheon View a recent Event Recording
Corn Hole Tournament
Mentorship Program
Annual recognition with the "Young Leader Award" at the MAME Awards
Book Club
Community Volunteer Opportunities
The Young Leaders Council partners with other HBA Councils such as the Professional Women in Building and Custom Builder and Remodeler Council on various programs and events to provide an opportunity to expand your relationships and connect with a variety of HBA members. Many of our events are open to all HBA members, however, one benefit to becoming a member of the Young Leaders Council is reduced 'YLC Member' pricing on most events/programs as well as participation in any 'YLC exclusive' events/programs. Membership in the council is open to all HBA members under the age of 40.   We invite and encourage all HBA members wanting to meet and mingle with Young Leaders Council members to attend our events!
Now Available: Our full Calendar of Events for 2023 as well as Council Sponsorship Opportunities!
Check out a quick video about a previous Leaders & Libations event:
Thank You to our Sponsors:
Board Leadership
2023 Executive Team
Chair: Kevin Johnk, Sterling Ranch, (720) 224-2423
Co-Chair/Treasurer: Kage Janes, Firstbank, (303) 347-5907
Secretary: Colleen Judge, Maverick Warranties & Insurance, (309) 351-0164
Kevin Johnk, Chair, Sterling Ranch, (720) 224-2423
Kage Janes, Co-Chair/Treasurer, Firstbank, (303) 347-5907
Colleen Judge, Secretary, Maverick Warranties & Insurance, (309) 351-0164
Connie Dahl, HBA of Metro Denver, (303) 551-6720
Paige Roemmich, HBA of Metro Denver, (303) 551-6725
Chasity Peterson, Spire Financial, (719) 654-5977
Ashley Norton, Forestar Real Estate Group, (720) 452-8586
Kayleigh Robinson, Norris Design
Cody Hurley, Thomas James Homes, (919) 285-5484
Megan Fitzpatrick, KB Home, (310) 529-9321
Hayley Warner, Norris Design, (303) 832-4474
Allison Swanson, Paradigm Flooring, (720) 456-9656
Macy Nossaman, Kimberly Timmons Interiors, (641) 204-2987
Meghan Morin, HomeAid Colorado, (303) 217-3659
Matthew Prasad, Denver Flooring & Finishes
Hannah Rowan, Kimley-Horn & Associates
Erin Thomas, SaaviHome, (303) 951-2574
Gracy Weil, Southern Land Company
Gilda Zaragoza, Invalesco Real Estate, (646) 526-8682