HBA Political, Regulatory and Technical Committees
As a volunteer-driven organization, our many committees help guide the HBA's events and activities throughout the year. Consider joining one — or more — if you want to build strong, long-lasting relationships and make a difference to your fellow HBA members, while sharpening your leadership skills.
Metro Housing Coalition
As the HBA's political committee, the Metro Housing Coalition is led by a board of directors, which is comprised of 20 HBA builder and associate members. The Metro Housing Coalition educates local and state government officials about HBA issues through the election process, individual meetings, workshops and events. The Metro Housing Coalition is a great organization if you want to be active in the local political process. 2023 Committee Chair Aaron Foy.

Government Affairs Committee
Key to the HBA's mission is defending the homebuilding industry against harmful regulatory and legislative issues that can threaten the Denver metro homebuilding industry and the homebuying public. As such, the Government Affairs Committee creates and implements HBA policy on regulatory and legislative issues that can affect members' businesses. Builders, developers, planners, architects, engineers and attorneys will find it interesting and rewarding to participate on this committee.
The HBA president appoints 17 members to the Government Affairs Committee. The Government Affairs Committee serves as a recommending body to the HBA Executive Committee and Board of Directors. The committee identifies technical and regulatory issues and recommends advocacy for issues that impact the home building industry in the eight counties and thirty-four municipalities in the HBA of Metro Denver's region. 2023 Committee Chair Tim Craft.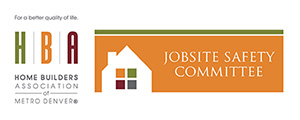 Job Site Safety Committee/HomeSafe® Colorado Program

The overriding goal of the Job Site Safety Committee is to limit construction site hazards through training, certification and peer support. Through the first-of-its-kind program, the HBA and OSHA partnered to form HomeSafe® Colorado, where builders voluntarily develop and implement effective work site safety and health programs. As a result builders usually see measurable reductions in work-related injuries, illnesses, deaths and overall business and operational costs. 2023 Chair, Ron Stafford, Thrive Home Builders

Permitting Committee
The Permitting Committee is a networking and a best practices discussion group that works toward improving relationships with local municipalities to encourage timely and efficient permit submittals and turn-around times. Committee Liaison: Morgan Cullen


Purchasing Agents, Subcontractors & Suppliers Committee
The PASS Committee is a group made up of Purchasing Agents, Subcontractors and Suppliers whose sole mission is to facilitate events that promote interaction between Purchasing Agents, Subcontractors and Suppliers.  The PASS committee is a group of Construction Professionals that believe in the Power of Networking, to help promote our Professional Relationships.   2023 Chair, Jenna Miles, KB Home

Regulated Utilities Committee
Designed to keep good relationships and open communications, the Regulated Utilities Committee is a forum for HBA members to discuss land development, home building and utility coordination issues, as well as maintain good relationships with local dry utility representatives, including Xcel Energy, IREA, United Power, Century Link, Comcast and AT&T. Committee Liaison: Morgan Cullen

Stormwater Management Committee
Designed to keep members current on best management practices for stormwater management and erosion control, the Stormwater Management Committee works closely with state and local regulators to protect the state's waterways and to protect water quality. 2023 Committee Chair: Jane Shanley, Oakwood Homes