2019 Committee Leadership
Chair: Chuck Roberts, Haberer Carpentry
Vice Chairs: Leota Buckman & Terry Brown, Oakwood Homes
Treasurer: Dave Highfield, Fortress Framing
Risk Assessment Sub-Committee Chair: Chuck Roberts, Haberer Carpentry
Training Sub-Committee Chair: Brian Gillen, Simpson Strong-Tie
Training Sub-Committee Co-Chair: Lacy McCormick, Fortress Framing
2018 - Chair: Jason Harris, TRI Pointe Homes
Thank you to our sponsors!
Membership Requirements and Annual Member Dues
HBA members in good standing can participate in the JobSite Safety Committee. To be a part of HomeSafe® Colorado, membership is free to HBA members in good standing.
Meeting times
Meetings are typically held on the third Tuesday of each month at 2:00 p.m. in the HBA building. Contact Chérie Talbert, 303-551-6734 for specific dates.
JobSite Safety Monthly Committee Meetings - Come find out what the committee is all about!
The third Tuesday of the month at 2:00 pm in the lower level conference room.
9033 E. Easter Place
Lower Level Conference Room
Centennial, CO 80112
June 18th Webinar: OSHA-ASSP Trench Safety Stand-Down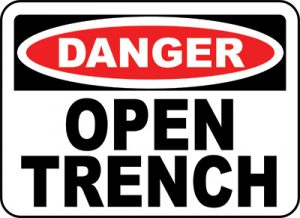 Excavation and trenching are among the most hazardous construction operations. Trench collapses, or cave-ins, are a significant risk and safety issue in the U.S. and cause dozens of fatalities and hundreds of injuries each year. These types of incidents are tragic—and they are preventable. Presented during the National Trench Safety Stand Down, this live webinar aims to increase awareness of trench and excavation hazards and reinforce the importance of using trench protective systems to safeguard workers. OSHA's Scott Ketcham will provide an overview of the National Trench Safety Stand Down, now in its fourth year. He will also share statistics on trench fatalities and violations of OSHA's standards. ASSP's Mike Hayslip and Steve Stock will share suggestions on how contractors and workers can conduct excavation and trenching operations safely by following subparts of 29 CFR 1926, as well as the best practices described in industry consensus standards such as ANSI/ASSP A10.12.
What You Will Learn
Discuss various trenching and excavation hazards and how to mitigate them
Define the term, "competent person" as found in 29 CFR 1926.32(f) and review the specific duties of the competent person in trenching and excavation work
List the specific "competent person" duties set forth in 29 CFR 1926 Subpart P: Excavation
Develop a better understanding of how you can apply ANSI/ASSP A10.12 for sloping, benching, shoring and shielding protective systems
2020 Calendar of Events is now available!
Download your copy of the 2020 Jobsite Safety Committee Calendar
Jobsite Safety Videos Now Available!
| | |
| --- | --- |
| | News Release |
U.S. Department of Labor  |  November 27, 2019
U.S. Department of Labor Promotes Worker Safety And Pay During the Holiday Season
WASHINGTON, DC – The U.S. Department of Labor's Occupational Safety and Health Administration (OSHA) and Wage and Hour Division (WHD) remind employers to protect worker safety and pay during the upcoming holiday season. "During the busy holiday season, employers must focus on protecting their workers by anticipating and preventing potential hazards in the workplace," said Principal Deputy Assistant Secretary of Labor for Occupational Safety and Health Loren Sweatt. "All workers deserve a safe workplace whether they are stocking shelves, packing boxes, delivering products or selling merchandise."
OSHA offers holiday workplace safety resources on warehousing, tractor trailer drivers, forklift safety, winter weather and crowd management. General safety guides are also available, providing information on workers' rights, the protection of temporary and seasonal workers, as well as safety for young workers.
Temporary or seasonal employees hired to provide additional help have the right to a safe and healthful workplace, and to be paid for the work performed. As hiring spikes, employees not familiar with seasonal employment, and employers unaccustomed to hiring part-time and/or seasonal employees may not be fully aware of the rules that surround such work.
"Retail employees work hard during the holiday season to serve shoppers and keep the economy thriving, and they have bills to pay. We need to make sure they are able to do so by ensuring workers are paid their rightful wages," said Wage and Hour Division Administrator Cheryl Stanton. "The holiday shopping season increases the numbers of temporary and part-time workers, so it's important that we inform these workers and their employers about rules concerning work hours, wages and employment conditions."
WHD enforces federal minimum wage, overtime pay, recordkeeping and child labor requirements of the Fair Labor Standards Act (FLSA). Common holiday season labor violations include failing to pay salespeople and cashiers for time spent prepping or closing out a register; requiring stock room and warehouse personnel to work through breaks without compensation; and not providing overtime pay to employees working more than 40 hours in a workweek.
Learn more about WHD's guide for holiday season employment.
Under the Occupational Safety and Health Act of 1970, employers are responsible for providing safe and healthful workplaces for their employees. OSHA's role is to help ensure these conditions for America's working men and women by setting and enforcing standards, and providing training, education and assistance. For more information, visit www.osha.gov.
The mission of the Department of Labor is to foster, promote, and develop the welfare of the wage earners, job seekers, and retirees of the United States; improve working conditions; advance opportunities for profitable employment; and assure work-related benefits and rights.
###
Media Contacts:

OSHA
Simone Walter, 202-693-4664, walter.simone.r@dol.gov
Denisha Braxton, 202-693-5061, braxton.denisha.l@dol.gov
WHD
Edwin Nieves, 202-693-4655, Nieves.Edwin@dol.gov
Grant Vaught, 202-693-4672, Vaught.Grant.E@dol.gov
Release Number: 19-2086-NAT
U.S. Department of Labor news materials are accessible at http://www.dol.gov. The Department's Reasonable Accommodation Resource Center converts departmental information and documents into alternative formats, which include Braille and large print. For alternative format requests, please contact the Department at (202) 693-7828 (voice) or (800) 877-8339 (federal relay).
"When it comes to Safety: Information, Education and Knowledge are Power! The Home Safe Colorado program is the "Go To" educational resource for all residential construction professionals. The program has been designed to strengthen a company's aptitude in the safety sector. The program offers assistance based on OSHA compliance training and graduates to the development of a complete safety program tailored to a company's specific needs.  The value of the Home Safe Colorado program will promote benefits that will hopefully minimize the risk of injury to our Colorado workforce and create a "Nobody Gets Hurt Today" mindset."
- Jeff Palumbo, Shea Homes CO, Safety and Environmental Manager