Committee Leadership
President: Aaron Foy, BLVD Builders, 303-955-4421
Vice President: Jim Hayes, Forestar, 303-888-8634
Treasurer: Bryan Conway, Cardel Homes, 303-745-9490
Immediate Past-President: Diana Rael, Norris Design, 303-892-1166
Board Members
Erik Anderson, Land Title Guarantee Company, 303-331-6247
Peter Benson, Koelbel & Company, 303-300-8782
Tim Craft, Craft Companies, 303-601-5188
Alan Cunningham, PCS Group Inc., 303-531-4905
Jay Garcia, Thrive Home Builders, 303-947-4876
Natasha Ghandi, Richmond American Homes, 720-977-3826
Roger Hollard, Land Perspectives, 303-726-2147
Travis Hendrix, KGA Architects, 720-925-5561
Tom Kaufman, Antonoff & Company Brokerage, 303-669-8118
Sarah Kolz, Westwood Professional Services Inc., 720-249-3557
Heidi Majerik, Southern Land, 720-531-8924
Matt Osborn, Resmark Communities, 720-637-9750
Bruce Rau, Oakwood Homes, 303-486-8500 
Rose Rodriguez, Taylor Morrison, 720-727-2482
John Vitella, Vitella Partners, 303-210-4964
Metro Housing Coalition Political Committee
Metro Housing Coalition Political Committee's Mission
The Metro Housing Coalition (MHC) is the political arm of the Home Builders Association (HBA) of Metro Denver. Led by a Board of Directors composed of HBA builder and associate members, the MHC works to inform local and state governmental officials about homebuilding issues through the election process, individual meetings, workshops and events.
Housing for Colorado IEC
The Housing for Colorado Independent Expenditure Committee (IEC) support candidates for local and statewide offices, regardless of their party affiliation, who support the home building industry in metro Denver. Housing for Colorado IEC is governed by the Metro Housing Coalition's Board of Directors. Morgan Cullen is the registered agent for the Housing for Colorado IEC.
2022 MHC Voters Guide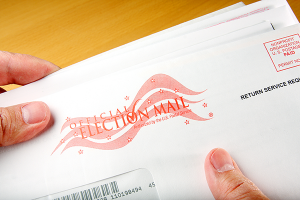 Download your 2022 MHC Voters Guide Here! The MHC interviews and supports political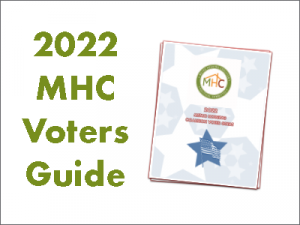 candidates based on permit activity and issues within our territory covering thirty-four municipalities and eight counties in the metro Denver region. *Those who elect to interview with the MHC and those who support a vibrant and affordable housing market are those who receive an endorsement and/or a contribution from the Metro Housing Coalition.

SHELTER AMID COVID | Providing housing, jobs

The past twelve months have certainly been difficult for our state. Colorado — and our state's citizens, businesses, schools and nonprofits — have risen to the challenge to contain this pandemic, keep our communities safe and healthy, and maintain our economy.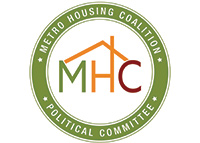 Homebuilders have embraced Colorado's spirit of collaboration and cooperation to defeat COVID-19 —while keeping tens of thousands of Coloradans working and meeting the demands of our state's housing needs. The construction industry — including homebuilding, commercial development, and roads and transportation — employs more than 180,000 workers in our state. Keeping these Coloradans safely on the job helped their families and local communities through these tough economic times. Read the entire article on coloradopolitics.com
Households Priced-Out by Higher House Prices and Interest Rates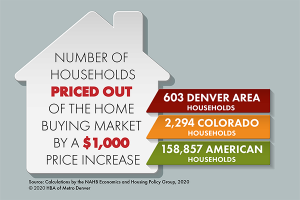 Increases in house prices and interest rates clearly have an impact on housing affordability. Often, stakeholders are interested in increases due to changes in government regulation. NAHB's "priced-out" estimates provides a convenient way of putting these changes in context.
Price Increase impacts:
NAHB's latest estimates show that nationally, a $1,000 increase in the price of a median-priced new home will price 158,857 U.S. households out of the market. Based on their incomes and standard underwriting criteria, each of these households would be able to qualify for a mortgage to purchase the home before the price increase, but not afterward. Read more
Get to Know Us
The MHC Board of Directors is made up of a representation of home builders, developers, and associate members of the HBA of Metro Denver. The Board acts as the governing body of the MHC with the authority to establish policy and implement the objectives of the MHC. The Board consists of up to twenty directors.
Benefits
Advance the interests and political awareness of the homebuilding industry in Metro Denver.
Support local and state level candidates as determined by an annual analysis of races.
Work to improve the political climate for the homebuilding industry within the Metro Denver region.
Help our members and elected officials play a more active role in the public policy and political process surrounding homebuilding issues.