2023 Committee Leadership
2023 Chair:  Ron Stafford, Thrive Home Builders
2023 Co-Chair:  Will Whitesides, Lennar
Immediate Past Chair:  Dan Johnson, SFI Compliance
OSHA QuickTakes - RSS Feed
Thank you to our sponsors!
HBA's Jobsite Safety Committee's OSHA Update as presented on April 8, 2021
---
HBA's Jobsite Safety Committee's HomeSafe® Colorado Safety Orientation as presented on May 27, 2020 - video now available
---
September 14 - 18 | OSHA National Safety Stand-Down
Link to Information and resources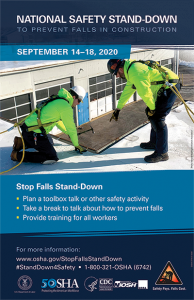 Jobsite Safety Videos Now Available!
"When it comes to Safety: Information, Education and Knowledge are Power! The Home Safe Colorado program is the "Go To" educational resource for all residential construction professionals. The program has been designed to strengthen a company's aptitude in the safety sector. The program offers assistance based on OSHA compliance training and graduates to the development of a complete safety program tailored to a company's specific needs.  The value of the Home Safe Colorado program will promote benefits that will hopefully minimize the risk of injury to our Colorado workforce and create a "Nobody Gets Hurt Today" mindset."
- Jeff Palumbo, Shea Homes CO, Safety and Environmental Manager