SPEAKERS ANNOUNCED FOR 2020 HBA INNOVATIONS SUMMIT
– Event to Highlight "Leadership by Design" –
CENTENNIAL, CO – January 22, 2020 – The Home Builders Association of Metro Denver (HBA), a professional trade organization representing home builders, developers, and industry suppliers in the eight-county Denver Metr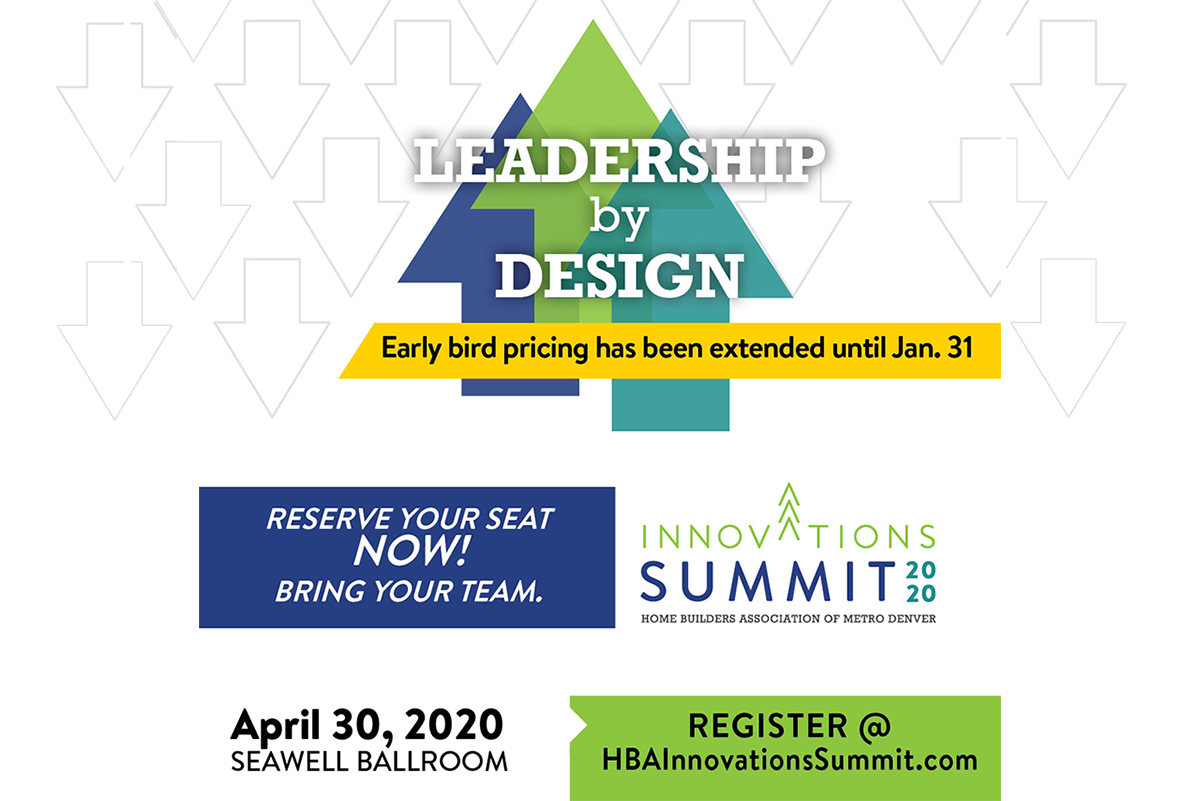 o area, announced the speaker lineup for its third annual HBA Innovations Summit to be held at the Seawell Ballroom in Denver on Thursday, Apr. 30, 2020, at 2 p.m. The event, which is open to the public, will feature speakers focused on helping and inspiring professionals to become leaders and encourage a culture of leadership within their organizations. A networking event will take place immediately following the program. Tickets are $125 for HBA members and $155 for non-members. Early bird pricing is available through Jan. 31. Visit www.hbainnovationssummit.com to purchase tickets.
"Although the HBA is the host of the event, our program and speakers will address universal concepts that could be applied in almost any business," said Gilda Zaragoza, principal and managing broker at Invalesco Real Estate and chairperson of the event. "This year, we are extending a special welcome to our colleagues in both residential and commercial real estate, and look forward to networking with them after the program."
The theme for the event, "Leadership by Design" will feature three speakers with unique perspectives:
Jenny Blake, co-founder of Google's career development and mentorship program, is the founder of Pivot Method, a growth strategy company that helps forward-thinking individuals and organizations map what's next. Before starting her own coaching firm, Blake helped more than 1,000 people improve their careers and learn traits to become successful. Blake is the author of Pivot: The Only Move That Matters is Your Next One, and host of the popular Pivot Podcast. Her motto: If change is the only constant, let's get better at it.
Scott Dikkers founded the world's first humor website, TheOnion.com, in 1996. A few years earlier, he helped found the original Onion newspaper. Scott led The Onion's rise from small, unknown college humor publication to internationally respected comedy brand by working with a team of talented writers and editors to develop The Onion's culture of creative freedom and brutal honesty, its distinct comic voice, and its reliable process for generating award-winning satire, day after day.
Michael Lammel is the visionary at NOA, a Germany-based strategic design agency focused on human-driven innovation, enabled by technology. Lammel is responsible for overall product design and future scenario development, working with a team of professionals to create fascinating design experiences, future-oriented product signatures and successful brand presentations for clients.
"Since its inception in 2018, the HBA Innovations Summit has established itself as a signature event for our organization, as well as an excellent source of information for individuals and organizations in Colorado who are looking to lead, innovate and align with partners for growth," said Cheríe Talbert, CEO of the Home Builders Association of Metro Denver. "We anticipate this year's event to be our most successful yet."
About the HBA of Metro Denver
Founded in 1943, the Home Builders Association of Metro Denver is a professional trade organization that represents homebuilders, developers, remodelers, architects, mortgage lenders, title companies, subcontractors, suppliers and service providers in the eight metro-area counties we serve. HBA members are also members of the Colorado Association of Home Builders and the National Association of Home Builders.
With over 530 members, the HBA of Metro Denver is the largest HBA in Colorado. We're devoted to providing our members with advocacy, networking opportunities and education so together, we can continue improving the homebuilding industry.
For more information on the 2020 HBA Innovations Summit, visit www.hbainnovationssummit.com or follow the HBA on social media, using the hashtag #hbainnovationssummit.