New Home Sales End 2019 with 10% Gain
New home sales were effectively flat in December, after downward revisions for prior months. However, the sales pace for newly-built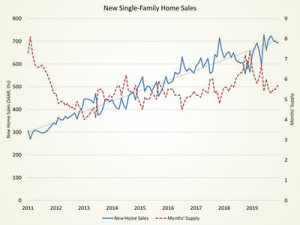 single-family homes ended 2019 with a gain of 10%, increasing to a total of 681,000. This marks 2019 as the best year for new home sales since the Great Recession.
Contracts for new, single-family home sales declined slightly in December by 0.4% to a 694,000 seasonally adjusted annual rate according to estimates from the joint release of HUD and the Census Bureau.
The acceleration of new home sales during the second half of 2019 returns the new home sales pace to the general trend line it has been on since the end of the Great Recession. This general rising trend for new home sales, after the housing affordability crunch of 2018, suggests additional construction gains in 2020. Sales are being supported by ongoing low interest rates and historically low unemployment.
The current months' supply of new single-family homes stands at a healthy level of 5.7 after peaking at an elevated 7.4 in December 2018. After rising over much of the post-Great Recession cycle, new home inventory measurably declined from January of 2019 until stabilizing in September and rising slightly in recent months. The count of completed, ready-to-occupy new homes is just 78,000 homes nationwide. Read the Article on eyeonhousing.org