Construction is an Essential Business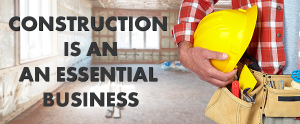 Governor Polis has issued a statewide stay-at-home order that is in effect from 6:00 am Thursday, March 26, 2020 and will last until April 11, 2020. Construction remains on the "critical business list" which means that construction work is exempt from this new order.
It is more important now than ever that the construction industry and all other critical businesses comply with social distancing requirements at all times.