COVID ORDERS BY HBA METRO DENVER JURISDICTIONS COMPILED IN ONE PLACE

Good morning.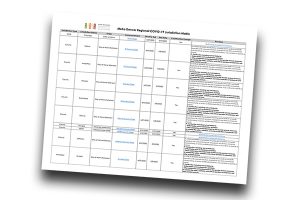 Most of us are entering week #8 of COVID related changes to our workplace and our lives.  During these last eight weeks, there have been multiple orders coming out of the Governor's Office and, as I've been making sure to remind you all – multiple orders coming from the local municipalities and counties and public health departments.  All of these orders are confusing due to the fact that there are so many variations.
Our HBA of Metro Denver charter spans over a large region of the Front Range, mirroring your home building operations and services.  Thus, I have compiled a spreadsheet of all eight counties and 34 municipalities that we provide advocacy, networking, education and pertinent information over to our members.
I think you will find this a very helpful tool as you navigate what the orders are in each area that you live and work.  This spreadsheet will incur changes, and I will update it after the May 8 and May 15th timeframes; of which we know several jurisdictions will be softening their orders.
Have a safe and healthy week!
Best Regards,