CAHB Member Benefit – Q1'20 Deadline Extension. Claim By Friday, 6/5/20
Last Call To Claim for Q1'20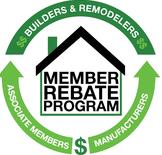 You Asked, We Listened.  The deadline to submit your claim for all residential addresses completed between January 1 and March 31, 2020 has been extended until this Friday, June 5th.
The absolute final deadline to submit from
January - March 2020 is this Friday, June 5th, 2020
THIS IS YOUR FINAL CHANCE TO CLAIM FOR Q1 2020!!!
Need assistance? www.HBArebates.com/contact.html

"How to Claim" Webinar is this Wednesday, 3pm-3:30pm EST www.HBArebates.com/webinar.html to register
We look forward to adding to your overall rebate total and writing you another rebate check!
Be Rewarded for your loyalty and CLAIM TODAY!
Member Rebate Program
State & Local HBA member benefit
Questions? - Contact: Kim Klein
Phone: 732-612-3865 * Email: Kim@HBArebates.com