HBA Announces New HBA Member Ambassador Program
Call for Ambassador Applications
The Member Ambassador Program was created as a collaboration with our HBA Membership Committee and HBA Membership Manager to help connect our members and educate them about key HBA activities and offerings - industry advocacy, networking, and educational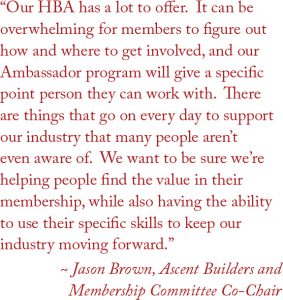 opportunities. Ambassadors will help fellow members navigate and gain value from the many events, benefits, Councils, Committees and leadership opportunities available to every HBA member to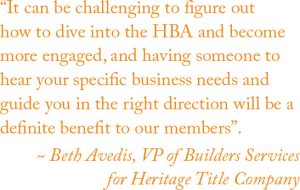 help their business thrive.
We are looking for current members who have a passion for our industry and the workings of our association, and who want to share that passion with fellow HBA members. Are you interested? We'd like Ambassadors to meet with less-engaged members, listen to their needs and help them find their niche within the organization; to be the resource needed to help our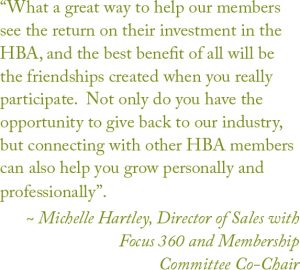 members and strengthen our HBA. The anticipated commitment will be approximately 5-10 hours per month. We will provide the training to work with an Ambassador's current  knowledge of the HBA and round out their education with more depth. Additionally, the Membership Committee & the HBA's Membership Manager, Carey Ungvary, will provide the tools needed for Ambassadors to excel in this role.
Please consider applying today - Application Deadline is July 9th.

Thank you and we are excited to receive your application! If you have any further questions regarding the program, please contact Carey Ungvary, HBA Membership Manager at cungvary@hbadenver.com.