HAP Awards Voting Now Open!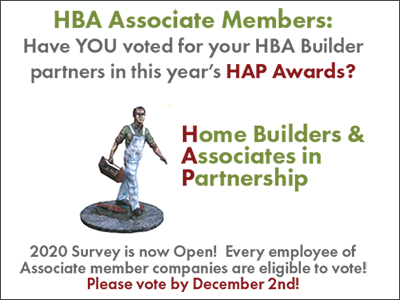 The HBA of Metro Denver is once again proud to present the HAP (Homebuilders and Associates in Partnership) Awards at the 2020 Annual Membership Meeting on December 10, 2020 (details coming soon).
These awards were designed to encourage and honor the values of trust, communication, loyalty and ethics shown by HBA builder members through their business dealings with HBA associate members. This award is presented by the Associate members and recognizes the top builder in each of the three categories who exemplifies this vitally important partnership.  All employees of Associate member companies are strongly encouraged to vote.
To help make this program successful, we need your participation. As a valued associate member, we ask for your vote on the Best National Production Builder, Best Local Production Builder, and Best Custom Home Builder. We ask that you vote only for builders whom you have partnered with during the last 12 months.  Please encourage your fellow employees and other HBA Associate members to vote as well.
The HAP Award winners are determined by you and our other associate members with whom the builder does business. You are asked to rank the top three builders in each category with one being your first choice based on trust, communication, loyalty, ethics and consideration. Please consider all the criteria listed for each section. Your response will be kept confidential, though for voting integrity, you will be asked for your email - there is a limit of one survey response per email address. Builder member votes will be disregarded.
All eligible builders must be a member in good standing with the HBA of Metro Denver. Eligibility is also based on the issuance of at least one permit in 2019 or 2020.
All evaluations/ballots are due Wednesday December 2, 2020. The HAP Awards will be presented at the 2020 Annual Membership Meeting on December 10, 2020 (save the date)!