Governor announces new COVID risk level; 10-plus counties expected to move to Red by week's end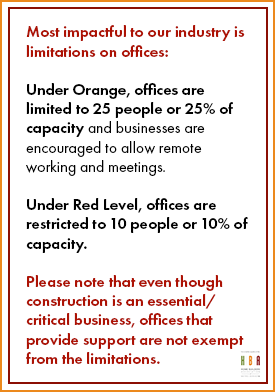 With COVID-19 incidence rates climbing across Colorado, putting stress on hospitals, public health systems and health care workers, Gov. Polis Wednesday announced a change to the state's COVID-19 risk dial, changing the Red (Severe Risk) Level and adding a Purple (Extreme Risk) Level. The new dial will go into effect on Friday. However, several counties across Colorado have already begun moving into the Orange (High Risk) Level.

At Tuesday's press conference, the governor indicated that 10 to 15 counties will likely move to the Red Level on Friday; however, exactly which counties will be at Red has not been finalized yet. Denver Mayor Michael Hancock has indicated that Denver will move to Red on Friday. Several counties in the mountains, trying to preserve the upcoming ski seasons, are expected to move to Red. Those counties include Summit and Routt. Eagle County, home to Vail and Beaver Creek, yesterday reaffirmed its intention to remain at Orange.

The current list of counties expected to move to Red on Friday includes Adams, Arapahoe, Boulder, Broomfield, Clear Creek, Denver, Douglas and Jefferson on the Front Range. Western Slope counties include La Plata, Mesa, Routt and Summit, and Eastern Plains counties include Logan, Morgan and Washington. Pitkin and Pueblo counties may also be considering voluntary moves into Red.

The primary differences in the new COVID dial between the Orange and Red levels include:
Indoor events, even personal gatherings, are not allowed under Red Level restrictions.
Restaurants under Red must close inside dining and can only provide outdoor seating, delivery and carryout.
Last call under Red will be 8 o'clock and bars not serving food are closed under Orange and Red.
Gyms under Orange will be at 25 people or 25% capacity; under Red, gyms will be restricted to 10 people or 10% capacity.
Additional differences between the levels are available on the state's COVID web site at https://covid19.colorado.gov/covid-19-dial.
Most impactful to our industry is limitations on offices. Under Orange, offices are limited to 25 people or 25% of capacity and businesses are encouraged to allow remote working and meetings. Under Red Level, offices are restricted to 10 people or 10% of capacity. Please note that even though construction is an essential/critical business, offices that provide support are not exempt from the above limitations.
In addition, please remember that our state remains under a facial covering order. To keep your jobsites and employees safe, please continue to use the Colorado Department of Public Health and Environment's Multi-Industry Construction Guidance. That document, available by clicking here, remains the overall guidance document for our industry.
We will be providing updates as we receive updates on the new COVID health order and specific counties move to Orange or Red level restrictions.