Denver's Best Home Builders are Honored By Associate Members at HBA's Annual Membership Meeting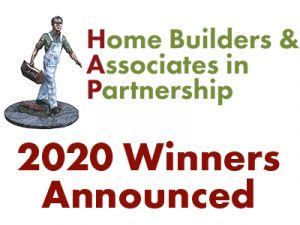 The Home Builders Association of Metro Denver (HBA) recognized three outstanding Denver-area home builders at its annual membership meeting and presented them with the industry's prestigious 2020 HAP Awards (Homebuilder and Associates in Partnership).
The winning builders were:
Lennar for National Production Builder
Boulder Creek Neighborhoods for Local Production Builder
Joyce Homes for Custom Home Builder
More than 140 HBA members attended the annual membership meeting, which was held virtually, December 10th. The 2020 HAP Awards were designed to honor the values of trust, communication, loyalty and ethics with HBA builder members in their business dealings with HBA associate members. The HAP Awards are voted on and awarded by HBA Associate members and recognizes the top builder in each of the three categories who exemplifies this vitally important partnership.
"It is truly an honor to be presented as a winner or named as a finalist for the HAP Awards. The values these builders adhere to not only impact their trade and business partnerships, but also influence their relationships with customers and the community at large. It truly makes a difference who builds your new home and the HBA has just recognized the best in the industry," said Ted Leighty, CEO and Executive Vice President of HBA.
National Production Builder finalists included: Oakwood Homes, Shea Homes, Taylor Morrison and Toll Brothers.  Local Production Builder finalists included Berkeley Homes, Epic Homes, K2 Residential Solutions, and Thrive Home Builders. Finalists in the Custom Builder Category were American Legend Homes, Celebrity Custom Homes, Larsen Development Company, and Thomas Sattler Homes.
About the Home Builders Association of Metro Denver (HBA)
The HBA is a trade association representing businesses involved in the residential development, construction and remodeling industry in the eight-county Denver metro region. Members include homebuilders, developers, remodelers, architects, mortgage lenders, title companies, subcontractors, suppliers and service providers. Founded in 1942, the HBA is one of 700 local home builder associations in the United States. The HBA is also affiliated with the Colorado Association of Home Builders (CAHB) and the National Association of Home Builders (NAHB), which represents more than 150,000 member firms in the United States.
For more information, call 303-778-1400 or visit www.hbadenver.com.