Don't be fined! Be prepared for Jan 1 Employment Rules Changes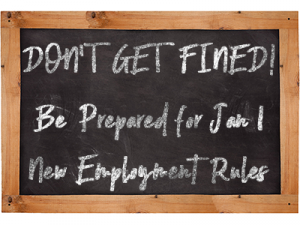 Several new labor and employment laws and regulations will go into effect for employers starting on January 1. Please review the following links or forward to your Human Resources team. It is important that your business understands these changes and makes the necessary preparations. The following are links to the new laws and regulations set for January 1:
COVID vaccine being administered across Colorado
Last Monday, the first doses of Pfizer's COVID vaccine were administered to frontline medical workers and first responders. Colorado is expecting additional doses this week from Moderna, a second manufacturer of the vaccine. The state and local health departments have developed a phased distribution plan to ensure that the initial supply of vaccines gets to the most critical populations. Phase 1 will vaccinate high risk health care workers and individuals, followed by moderate-risk health care workers and first responders. Phase 2 will include higher risk individuals and essential workers. Phase 3 will be the general public. Click here for more information on Colorado's vaccination plan.
With vaccine availability for the general public being months away, please be sure to continue following all public health orders, including wearing a mask in public, maintaining at least 6 feet of distance from others, avoiding gatherings, washing your hands often, and staying home when you are sick.
In addition, the Colorado Department of Public Health and Environment is asking that all Coloradans consider adding their iPhone or other smart phone to the CO Exposure Notifications system. By opting in, your device will exchange randomly generated 'tokens' with other users using only your phone's Bluetooth. If another user tests positive for COVID-19 within a 14-day period of coming in contact with them, your phone will notify you. More information about the CO Exposure Notification system is available at https://covid19.colorado.gov/Exposure-notifications.
General Assembly to recess until mid-February
Senate and House leadership announced yesterday that the General Assembly will convene on January 13 for its 2021 session to address constitutional requirements such as swearing in new members and setting leadership posts. Ceremonial activities and session-opening speeches will be postponed until later in the session.  The legislature will temporarily recess until February 16, hoping that Colorado will be past the peak of the pandemic. Last year, the Colorado Supreme Court allowed the legislature to stretch out its 120-day session during a declared public-health emergency.
 Happy Holidays!
On behalf of the entire HBA and CAHB team, please have a happy holiday season. I know we all look forward to a peaceful break and new beginnings in 2021. Until next year, stay healthy and safe.