YLC 2020 – A Year in Review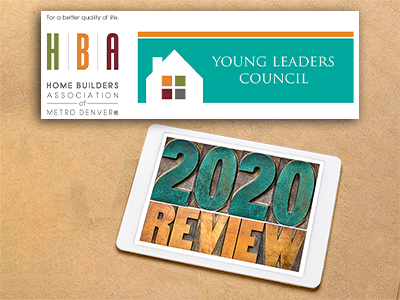 There's no denying that 2020 was a year for the record books. Despite its many challenges, the Young Leaders Council is excited to continuously be growing and helping provide young professionals in the building industry with opportunities to connect and further their careers. Here's a look back on all that we were able to accomplish together in 2020:
We Fostered Connection and Grew Our Networks:
We hosted an in-person Eats + Inspiration event in February that talked about The Art of Networking. Speakers Dawn Duhamel and Jamie Goldman provided valuable tips on how to prepare, set realistic expectations, and actively listen so you can successfully network and forge new relationships. We also hosted two virtual Eats + Inspiration events. In July, we welcomed Patrick Kelly, Bill Ramsey and Kevin Johnk to talk about Building the Foundation for Successful Company Culture and Communication. They shared insight on the right platforms and programs for companies to use to create a strong culture. Our final Eats + Inspiration was hosted in November and featured Devyn Bachman and Jenni Lantz. They shared a deep-dive of the state of the Denver market and upcoming trends and opportunities. Thank you to KGA Studio Architects for your Eats + Inspiration sponsorship!
We read two books through Beers and Books, Creating Magic by Lee Cockerell and Talk Like TED by Carmine Gallo. Although we were unable to sip and share our thoughts in person, connecting virtually does have its advantages. Author Lee Cockerell was able to attend our discussion of Creating Magic – a unique opportunity that we wouldn't have otherwise had. Thank you to Redland for sponsoring this event!
Amidst the stay at home orders, the YLC hosted Coffee, Connections and Encouragement – a series of virtual meet ups that offered opportunity for members to catch-up and connect with others.
We Gave Back to Our Community:
February's Eats + Inspiration event hosted a winter coat drive. Donations went to Father Woody's Haven of Hope, an organization that provides clothing, hot meals, and private showers to Denver's homeless.
In September, YLC members built a ramp for the Home Builder's Foundation, providing a safe egress out the front door of the recipient, at no cost to them.
In December, we volunteered at the Denver Rescue Mission, serving a hot meal to more than 400 individuals.
We Worked Hard, but Played Hard, Too:
We hosted our 4th Annual Cornament in October, a corn hole tournament with a full 16-spot bracket. After suffering a heartbreaking defeat last year, Brandon Donovan and his partner Tim Tacl took back the championship! We enjoyed catching up with friends and colleagues, and a healthy dose of competition.
And finally, although perhaps most importantly, we couldn't do what we do (even in the craziest of times) without the support of our longstanding partners – BAC, Ferguson, CVL, Whirlpool and Brookfield Residential. We are so grateful for their continued support! As we look toward 2021, we are excited to be continuing our mentorship program and our annual Top Golf outing.
Interested in joining the YLC? Join by Valentine's Day and your first year is only $20.21!  Special application downloadable here