NAHB's Bringing Housing Home® | Virtual Meetings with Colorado Congressional Delegation Scheduled for May – RSVP Today
NAHB's Bringing Housing Home® is an opportunity for our members to conduct in-district meetings with our U.S. representatives and senators. These meetings are key to strengthening relationships with our Washington lawmakers and to keep the housing industry as a priority in Congress. We encourage your participation in these meetings, which will be conducted entirely via Zoom this year. Our congressional delegation wants to meet with you, their constituent, not just the CAHB and local HBA staffs. With that in mind, we encourage you to join the meeting with your respective House representative and either or both meetings with our U.S. senators.
Each of our members provide an important perspective as industry practitioners. These are meetings on behalf of NAHB, so as you can imagine, we will primarily discuss federal housing and construction issues. Please review NAHB's 2021 Legislative Priorities brochure so that you understand the issues we are tasked with conveying to our members of congress this year. Below is a schedule of this year's meetings with our Congressional Delegation: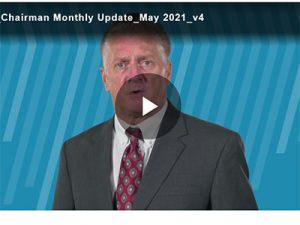 Rep. Diana DeGette – Tuesday, May 4 at 2:00 pm
Rep. Ken Buck – Tuesday, May 4 at 1:30 pm
Senator John Hickenlooper – Wednesday, May 5 at 7:30 am
Rep. Jason Crow – Wednesday, May 5 at 12:30 pm
We encourage you to participate and help us bring housing home to our congressional delegation. For more information and to register for the meeting, please contact Corinne Burch and specify which meetings you would like to attend.
This morning, in his May update (video link at right), NAHB Chairman Chuck Fowke promoted Bringing Housing Home® — the key Federation-wide event taking place this week, urging members from around the country to meet with federal lawmakers in their home districts to discuss important issues impacting the housing industry and their communities.