HBA launches 2021 membership drive; calls on members to help lead the charge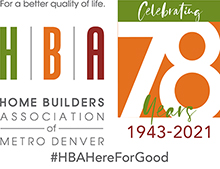 The Home Builders Association of Metro Denver today launched its 2021 membership drive. The drive will heavily rely on current members to help recruit new companies and individuals to join the HBA.
"With the COVID pandemic moving into our rearview mirror and our industry playing such a large role in our state's economic stability and growth, it's time to turn our attention to building the HBA's membership base," said HBA Membership Manager Katie Evereth. "HBA membership comes with many benefits, especially our strength in local government advocacy, professional development, and networking. Growing our membership base will only strengthen these core HBA services."
The campaign, which runs from September 1 to November 30, includes several incentives for current members, including double Spike points during the month of October. Spike points are awarded each time a member helps recruit or retain another HBA member. Once a Member has earned 6 Spike points, they enter the Spike Club. Spike Club members receive numerous benefits throughout the year, including an invitation to the Spike Party/Directors Reception at the annual NAHB International Builders' Show; increased visibility, recognition, and networking opportunities at industry events; and VIP treatment throughout the year.
Along with the Spike points, there will be other incentives for current and new members revealed over the summer ahead of the September 1 campaign launch.
As you know, HBA membership comes with very important benefits, including advocacy, education, and networking. These key strengths of the HBA allow our members to strengthen their companies and employees. Growing the HBA's membership base will strengthen these three pillars by creating more opportunities for current and future members.
To help highlight the HBA's benefits to prospective members, please consider bringing a guest to one or more of the following summer events:
"We hope that all members help make this a successful membership campaign. We are a stronger industry and more impactful voice together," said Jason Brown, President, Ascent Builders, Inc.
To get involved or to become a campaign sponsor, please contact Katie Evereth at 303-551-6712 or kevereth@hbsdenver.com.