On July 27th, more than 200 leaders, innovators, and drivers of change joined together for "Innovation on the Rocks" at the third annual HBA Innovation Summit. The impactful live experience was as memorable for its iconic views from the Upper Terrace of Red Rocks Amphitheatre as it was for its programming and networking that brought people together to foster relationships and inspire new perspectives.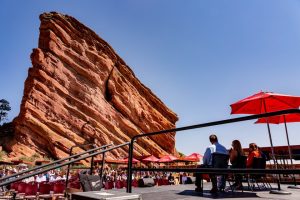 The event focused on solving and evolving, as attendees heard from forward-thinking leaders focused on driving change and catalyzing innovation in their fields. Keynote speaker Scott Dikkers, founder of the humor website, The Onion, shared how he developed a creative culture of frank honesty and freedom, building one of the most famous comedy brands into an empire with almost no marketing budget.
Mark Schlereth "Stink," three-time Super Bowl champion and NFL broadcasting veteran, emceed the event and moderated a panel featuring local leaders including Rachel Benedick with VISIT DENVER, Qadra Evans with Zillow Listing Services, and Adam Reed with Big Red F Restaurant Group. Panelists shared how they managed unprecedented change and adapted business practices to solve and evolve throughout it.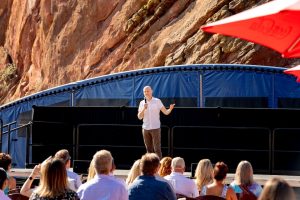 Here are some key takeaways from the esteemed list of speakers.
Scott Dikkers
Dikkers explained things didn't click for him until he found his mission: comedy. He suggests, "The wellspring of innovation is the obsession of getting better at something you love doing." He has found you don't have to be good at the thing you want to make better, but you do need to hire people who are better and smarter than you are, so you can let them innovate.
Mark Schlereth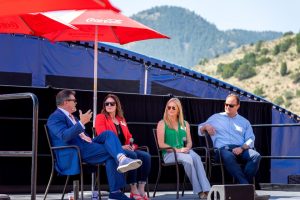 Schlereth spoke about the importance of building a team. "Create an atmosphere that we're in this thing together. Sacrifice for each other. I can't be good unless we're all really good."
Quadra Evans
Evans found that putting one foot in front of the other was the most important lesson. She explained that the pandemic connected the team at Zillow in new ways. "We have started creating teams across the country - which is such a gift. The variety of viewpoints and life history mean better collaboration, better ideas, and better atmosphere than we had before COVID. We're getting to experience more than we ever knew from such a vast variety of people."
Adam Reed
Reed found that clear vision of where they were headed was more important than ever at the restaurants Big Red F Restaurant Group owns. "Our most valuable resource is our people. Maintaining our team's lives inside and outside the business. We did a lot of charitable outreach, donating around 1,500 meals to food banks, which built solidarity amongst the team. We also committed to feeding all of our hourly employees. We invested in what matters the most - the people."
Rachel Benedick
Benedick shared that intentional communication and transparency were key for VISIT DENVER. "We were brutally honest. Our budget went from $43 million to $12 million overnight. We owned our uncertainty. I learned my favorite leadership quality is curiosity. The idea that as leaders we always feel like we have to have the answers, but learning to ask questions and learning - curiosity is key."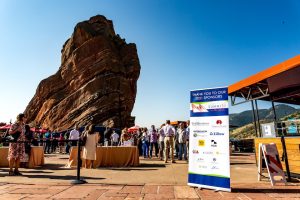 The 2021 HBA Innovation Summit was a success thanks to our sponsors who included Toll Brothers, Ferguson, Zillow, StrucSure Home Warranty, KGA Studio Architects, KB Home, Westwood Professional Services, Colten Mortgage, Invalesco Real Estate, TRIO, Possibilities for Design, Shea Homes, Kephart, ColoradoBiz Magazine, and Colorado Homes & Lifestyles Magazine.
The 2021 HBA Innovation Summit committee was co-chaired by Gilda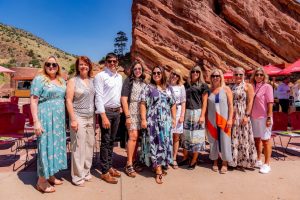 Zaragoza with Invalesco Real Estate and Brian Cassidy with Toll Brothers. Committee members included Angela Harris with TRIO, Jennifer Williams with KGA Studio Architects, Carrie Firmine with TRIO, Jamie Goldman with Kephart, Holly Scott with TRIO, Mary Schroeder with TRIO, Connie Dahl with the HBA, Michelle Ellis with Ellis Communications Marketing, and Lisa Parrish with Peter Mayer Productions.
To see the full event gallery, visit hbainnovationsummit.com/2021-event-photos.