Annual Industry Night Celebration Draws 400 at Independence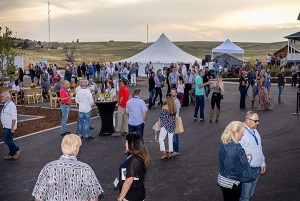 The 2021 Parade of Homes Industry Night brought together more than 400 homebuilding professionals for a memorable night that helped celebrate the industry and kick-off the 2021 Parade of Homes presented by Ent Credit Union.
Sponsored by Craft Companies, the event was held at the new Independence community in Elizabeth. Designed to embrace the rural lifestyle of its surroundings, Independence is a conservation community that will preserve land and resources while providing opportunities to live in beautiful Elbert County, Colorado. Every detail of the community has been thoughtfully planned - especially the design of the homes - offering timeless styles built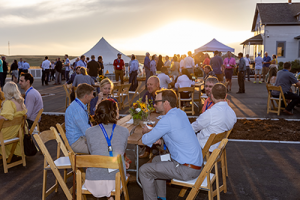 with the latest technology, energy efficiency and modern amenities for seamless livability. The acclaimed homebuilders responsible for bringing this vision to life are Richmond American Homes, Lennar, Joyce Homes, and Dream Finders Homes.
The backdrop for the epic evening was the original homestead and many of the century-old buildings used to ranch this land since the 1860s, including the barn and Victorian-style farmhouse. The inspiration for the evening derived from the three original windmills located on the highest elevations of the property which have been preserved as landmarks, which symbolize the spirit of Independence to honor the past and guide the path forward.
Industry Night was indeed an iconic celebration of what has and is to come for the homebuilding industry in Colorado.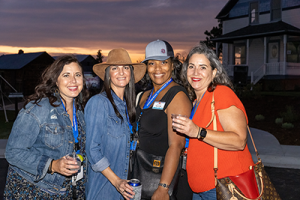 It was also the celebration of community. Food and drinks were served by a local food truck and vendors, entertainment was provided by the Denver bluegrass band Big Hooray, and games and entertainment were reminiscent of days gone by out on the farm.
Debuting at the event was the Builder Product Expo Pop-up, which featured 7 associate HBA members exhibiting their products and services. Networking commenced throughout the evening, bringing many industry professionals together for the first since before the pandemic.
Industry Night was a success thanks to its sponsors, including Ent Credit Union, US Bank, Zillow, Elevations Credit Union, Pella Windows & Doors of Colorado, FASTSIGNS of Arvada, Colorado Homes & Lifestyles Magazine, Fusion Sign and Design, Rio Grande Co., Offerpad, Westwood Professional Services/CVL, Colten Mortgage, Norris Design, Colorado Modern Communication, Ellis Communications Marketing, EnergyLogic, Broan-NuTone, Denver Glass Interiors/BelShower Door, Rinnai, Xcel Energy,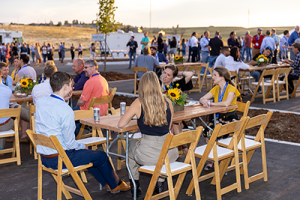 Redland, 3 Trees Design & Drafting, Paradigm Interiors, Core Consultants, RE/MAX Professionals The Dream Weavers, Pulte Homes, StrucSure Home Warranty, Direct Lumber & Door, RMG Engineers, ListenUp, Bowman Consulting Group, Piper Sandler, EV Studio, Lita Dirks & Co., and Sunnova.
The 2021 Industry Night planning committee included Elle Ethington with Craft Companies, Randy Pye with FulcrumOne, Lucy Hebb with Cultivator Advertising and Design, Liz Viscardi with LV Events and PR, Connie Dahl with the HBA of Metro Denver, Lauren Karsh with Colorado Modern Communication, and Michelle Ellis with Ellis Communications Marketing.
To see the full event gallery, visit https://www.dropbox.com/sh/xgle68mdxmsfb2d/AACyBfANXg_RP1FtWw6ygy2Ga?dl=0