CAHB Member Benefit – Q2'21 Claim Deadline Extension – Friday, 9/3/21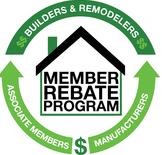 Free Member Benefit of Your State & Local HBA
One MORE Week Left to Claim!
Q2'21 Claim Deadline Has Been Extended to This Friday, September 3, 2021
Claim for any completed residential addresses from April - June 2021
Builders and remodelers who have not yet claimed for 2021 may claim for all residential jobs completed January through June 2021
Don't Delay, Claim Today!
Claimed Before? Same Claim Information?
Submit Your Quarterly Addresses