The HBA Advocate Newsletter | October 5, 2021

---

---
Jobsite Safety Committee Hosts Another Successful Safety Fair!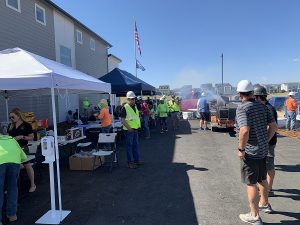 On September 21, the HBA Jobsite Safety Committee hosted its annual Safety Fair in Central Park Denver. While last year's Safety Fair was canceled due to COVID-19, this year's event was executed with veteran precision, and a great time was had by all. General Air, Hi-Ball Crane, SFI and OSHA were all present and offered cutting- edge safety training to everyone present. As usual, Alpine Lumber showed up with their BBQ trailer in tow and served copious amounts of burgers and bratwursts to the construction workers in the area. And of course, loads of prizes were given out (thanks to our generous sponsors and HBA members) to all attendees who participated in the safety demonstrations throughout the day. Tools, gift cards, hard hats and numerous other items meant that almost nobody left empty handed. Congratulations and a huge thanks are in order to this year's committee chairs, Jackson Babbs and Dan Johnson, and all of the other members of JSS who helped make this event a success. We can't thank you all enough and we are already looking forward to next year.  View pics of the event here.
---

---
Referred Measure Proposed by Castle Rock Would Impose New Excise Tax on Residential Development
On August 15, the Castle Rock Town Council referred four ballot measures to provide additional resources for police, fire, parks and open space for voter consideration this November. Among them is a $7 per square foot new home construction tax that would only apply to new multi-family and single-family residences. While the proposal may prove popular with existing residents who will receive the benefits off added public-safety programs without bearing any of the tax burden, it is an extremely unfair way to treat future residents who will be paying an additional $15,000 to $25,000 in the price of their homes. There has always been a longstanding expectation in Colorado that new development pays for itself, but the idea that new development also cover the public services of existing residents is completely unfair and will only exacerbate the attainable housing situation in Castle Rock and across the Front Range. The HBA of Metro Denver vigorously voiced our concerns and opposition to this measure to Council and staff throughout this process. Now that it has officially made the ballot, we will be working to share our concerns with Castle Rock voters. We will continue to keep our members updated on this issue through Election Day on November 2.
Metro Housing Coalition Conducting Candidate Interviews throughout the Metro Area
During September, the Metro Housing Coalition (MHC) turned its attention to the 2021 election season. To that end, MHC sent out questionnaires to every candidate in municipalities the board has determined are of strategic importance to our members and industry. This election cycle, we sent out over 120 questionnaires to candidates running in 13 different municipalities. Over 65 follow-up interviews were conducted with every candidate who filled out a questionnaire over a two-week period. Our full board met on September 15 to make final decisions on this year's slate of candidates and ultimately chose to endorse and contribute to nearly 40 candidates. The MHC plays an invaluable role in promoting our industry throughout the greater Denver Metro Area and helps ensure pro-housing, business-friendly majorities on city councils that have an outsized influence on the residential construction industry over the next several years. We would like to publicly thank this year's MHC Chair, Roger Hollard, the Executive Committee and entire board for stepping up to serve and sit for this year's interviews. We couldn't have done this without you.
HBA of Metro Denver Establishing 2021 Comprehensive Code Taskforce
This year, 15 different municipalities within our jurisdiction will be undergoing a comprehensive code update, and the HBA has enlisted the expertise of our membership. Our association's Code Committee has already begun meeting regularly to thoughtfully evaluate, discuss and propose the priorities of our industry. Our first organizational meeting took place on Thursday, Sept. 9. We will continue meeting every month through the beginning of 2022. We sincerely appreciate all of our members who are taking time out of their busy schedules to help participate in this important process.
Metro District Reform Ordinances Continue to Move Forward in Lakewood and Thornton
The cities of Lakewood and Thornton are finalizing an update to their model service plans governing metropolitan districts and have both held first-reading council hearings on the matter.
Changes in both municipalities include mill levies, debt/interest rates, fee limits and greater transparency/disclosure requirements. The HBA has submitted letters to the councils and appropriate city staffs and held follow-up meetings to go through our concerns on the initial staff recommendations. The final, second -reading hearings will take place in October and our association is meeting with council members in both jurisdictions to express our concerns. We will continue to keep our membership updated on this issue.
City of Thornton Considering Revised Water Connection Fee Increase on New Development
On September 29, the Thornton City Council passed a revised proposal to increase water-connection fees within the city on first reading. As you may recall, the city had made a similar proposal in the first half of the year, but was met with significant resistance from our membership. This revised plan does appear to phase in the increases over a three-year period.
The proposed connection-fee increase is based on the results from the Comprehensive Water Financial Plan, Rate, and Connection Fee Study completed in 2020. The plan considered a nine-year study period, 2020 through 2028. The plan includes a 2022 increase in the Single-Family Development Connection fee from $24,770 to $31,538 for lot sizes less than 8,000 square feet, $40,094 for lot sizes from 8,000 to 9,999 square feet and would then increase incrementally per 1,000 square feet for lot sizes over 9,999 square feet. The proposed connection fee will phase in these increases over a three-year period, 2022-2024. It is important to note that municipal staff is justifying the connection-fee increase by linking it to critical water projects within the municipality, including the Hammer Project that will provide additional water resources to new development until the city's new pipeline is constructed. When the original ordinance was presented last spring, this was a major concern for our builders, so the HBA is requesting feedback from our membership on this proposal. An overview of the proposed connection fee three-year phase in is available here.
HBA of Metro Denver Issue Tracker
Questions on what is happening in a specific city or county? The HBA is regularly monitoring the council and board activities in every political subdivision in the metro Denver area. Our Issue Tracker offers a great resource to learn about the issues being deliberated with links to agendas, packets and ordinances. The HBA of Metro Denver HBA Issue Tracker is available  to all members here.
All of the HBA of Metro Denver's Regulatory and Technical Committees are meeting regularly – Join today and make your voice heard!
As a volunteer-driven organization, the HBA's Jobsite Safety Committee, Permitting Committee, Regulated Utilities Committee and Stormwater Management Committee help guide the HBA's events and activities throughout the year. Consider joining one — or more — if you want to build strong, long-lasting relationships and make a difference to your fellow HBA members, while sharpening your leadership skills. Please visit the HBA website for more information or reach out to Morgan Cullen if you are ready to participate.