HBA Advocate Newsletter | November 2, 2021

November 2, 2022
Today is Election Day – Your Metro Housing Coalition Has Been Preparing All Year!
The Metro Housing Coalition has been working diligently over the past year to recruit, identify, interview and endorse this year's slate of city council candidates across the Denver Metro Area. The MHC Board and staff identified 13 municipalities deemed as priorities for the residential construction industry this election cycle. Within those political subdivisions, the MHC sent out 126 questionnaires to all candidates running for office and then conducted 65 interviews, endorsed 35 candidates and issued over $46,000 in direct candidate campaign contributions. The MHC also engaged in a number of independent expenditures to provide additional support to candidates in "high priority" areas to work toward ensuring "business friendly" city councils. To that end, the MHC has invested additional resources in Commerce City, Thornton, Aurora and Lakewood. The MHC also voted to contribute $10,000 to our campaign to oppose the residential construction excise tax in Castle Rock. A full list of MHC endorsed candidates is available here.
Fate of Referred Measure 2A in Castle Rock To Be Decided This Evening 
On August 15, Castle Rock Town Council approved four referred ballot measures to provide additional resources for police, fire, parks and open space for voter consideration this November. Among them is a $7-per-square-foot new home construction tax that would only apply to new multi-family and single-family residences. While the proposal may prove popular with existing residents who will receive the benefits of added public-safety programs without bearing any of the tax burden, it is an extremely unfair way to treat future residents who will be paying an additional $15,000 to $25,000 (or more) in the price of their future homes. There has always been a longstanding expectation in Colorado that new development pays for itself, but the idea that new development also cover the public services of existing residents is completely unfair and will only exacerbate the attainable housing crisis in Castle Rock and along the Front Range. The HBA of Metro Denver vigorously voiced its concerns and opposition to this measure to Council and staff throughout this process. We have also actively campaigned against the measure over the past six weeks and made our concerns know directly to voters. The HBA's issue committee, Castle Rock Can Do Better, has spent considerable time and resources to educate voters on the economic costs associated with the ballot measure and the toll it would take on aspiring homeowners in Castle Rock. We developed a campaign website, launched a series of digital ads on the Castle Rock newspaper as well as digital banner and video ads through election day. We appreciate all of the efforts from our coalition partners to help ensure that the collective voices advocating for attainable and accessible housing across the Denver Metro Area have been heard.
MHC 2021 Political Forum a Smashing Success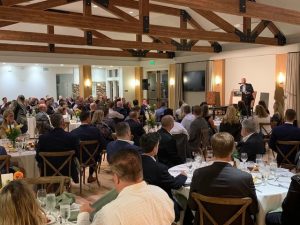 On September 29, the Metro Housing Coalition held its annual Political Forum at the Highlands Ranch Mansion. This year's event, titled The Building Blocks for Transformational Change, focused on housing attainability issues and featured several experts within the fields of public service, academia and the housing industry to help dissect the root causes of the Denver Metro Area's affordability crisis and how to solve them. The MHC would like to thank the moderator, Jeff McGovern, and panelists Thornton Mayor Jan Kulmann, Peter Benson and Peter Lifari. We would also like to acknowledge the generosity of HBA builder member Shea Homes for helping secure the venue for the evening, as well as all HBA members who sponsored tables and joined us for another wonderful evening. Thank you for making the MHC Political Forum a success in 2021.
City of Thornton Passes Revised Water Connection Fee Increase on New Development
Last month, Thornton City Council passed a revised proposal to increase water-connection fees within the city. As you may recall, the city had made a similar proposal in the first half of the year that was met with significant resistance from our membership. This revised plan phases in the increases over a three-year period of time.
The proposed connection-fee increase is based on the results from the city's Comprehensive Water Financial Plan, Rate, and Connection Fee Study completed in 2020. The plan considered a nine-year study period of 2020 through 2028. Once fully implemented, the plan will increase the Single-Family Development Connection fee from $24,770 to $32,090 for lot sizes up to 7,000 square feet and $40,094 for lot sizes 7,001 to 8,999 square feet. The proposed connection fee will phase in these increases over a three-year period from 2022-2024. It is important to note that municipal staff is justifying the connection-fee increase by linking it to critical water projects within the municipality, including the Hammer Project that will provide additional water resources to new development until the city's new pipeline is constructed. While we are pleased that the city finally conceded to our requests for a phased-in scheduled, we were disappointed that no incentives for reduced lot sizes or water-conservation measures were included in the final proposal. An overview of the proposed connection fee three-year phase in is available here.
City of Aurora Considering Increasing Transportation Impact Fees
During a study session on October 18, Aurora City Council received an overview on potentially increasing impact fees on new homeowners to help support transportation infrastructure within the municipality. Specifically, the proposal suggests increasing the transportation impact fee from $667 to $5,787.66 for a single-family home and $4,486.36 for a multi-family residential unit. While the city is rightly considering ARI credit adjustments and developer-initiated infrastructure improvements, such a dramatic increase will still impose significant hardship to aspiring homeowners and price thousands of hardworking Coloradans out of the housing market.
These additional costs, especially if increased all at once, will make the cost of homeownership unattainable for many aspiring residents with moderate incomes. The National Association of Home Builders' latest "Priced-out Estimates" from January 2021 indicate a $1,000 increase in the cost of a median-priced new home will further price 2,310 Colorado households out of the market.
While the HBA of Metro Denver is generally supportive of infrastructure improvements to support our economy and enhance quality of life, we do not support placing the financial burden entirely upon new homeowners in the community. We acknowledge that new transportation revenue in Aurora is badly needed; however, it is important that all residents who access and benefit from the city's streets and infrastructure help support agreed-upon improvements and upgrades.
To that end, a significant number of municipalities throughout Colorado have had success passing tax increases at the ballot box in recent years for a variety purposes, including over three dozen local ballot measures exclusively for transportation. In 2015, fiscally conservative voters in Colorado Springs overwhelmingly passed a 0.62% sales tax increase to support transportation infrastructure within the municipality with 65% of the vote. Residents then reauthorized the tax for an additional five years in 2019 by the same margin.
The HBA of Metro Denver respects Colorado's long-standing expectation that new growth pay for itself but the current proposal before the Aurora City Council punitively singles out aspiring homeowners to pay for infrastructure designed to benefit everyone. Alternatively, we would enthusiastically support a proposal that asks all Aurora residents and visitors to pay a little bit more to help support infrastructure improvements without sticking a small percentage of the city's future homeowners with the entire bill.
City of Denver Proposes Policy for New Affordable Housing 
Earlier this month, the City of Denver published its "Expanding Housing Affordability Proposed Policy Approach." The proposed policy is in response to the passage of HB 21-1117, which overturned a Colorado Supreme Court case commonly known as the Telluride decision and allows local governments greater flexibility for the construction and funding of affordable-housing units. The new proposals will make significant changes to Denver's existing program, including linkage fee increases for housing developments with seven units or less, mandatory inclusionary housing requirements with alternatives including a mandatory two-tiered fee-in-lieu structure, and incentives aimed at promoting the construction of affordable units. The city expects to conclude its Housing Affordability Project in spring 2022 and may approve a new ordinance with affordable housing requirements soon thereafter.
With respect to projects subject to Site Development Plan review, all projects with applications for concept site development plan review submitted by June 30, 2022, and final SDPs approved by August 30, 2023, should remain subject only to existing affordable-housing requirements and will not need to comply with the proposed policy changes. The planning review of this new policy will continue through the rest of this winter and into the spring, so there is ample opportunity for stakeholder input and involvement.
While the HBA believes that a new affordable housing ordinance will pass, the final proposal is far from certain, and we are encouraging all of our active builders in the City of Denver to make their voices heard. Our association will keep members updated on future opportunities for stakeholder engagement and any new developments as they arise.
HBA of Metro Denver Issue Tracker
Questions on what is happening in a specific city or county? The HBA is regularly monitoring the council and board activities in every political subdivision in the metro Denver area. Our Issue Tracker offers a great resource to learn about the issues being deliberated with links to agendas, packets and ordinances. The HBA of Metro Denver HBA Issue Tracker is available  to all members here.
All of the HBA of Metro Denver's Regulatory and Technical Committees are meeting regularly – Join today and make your voice heard!
As a volunteer-driven organization, the HBA's Jobsite Safety Committee, Permitting Committee, Regulated Utilities Committee and Stormwater Management Committee help guide the HBA's events and activities throughout the year. Consider joining one — or more — if you want to build strong, long-lasting relationships and make a difference to your fellow HBA members, while sharpening your leadership skills. Please visit the HBA website for more information or reach out to Morgan Cullen if you are ready to participate.