HBA Innovation Summit Returns April 26th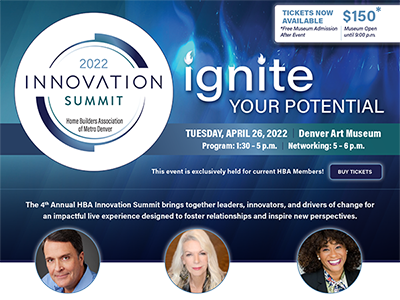 The HBA of Metro Denver's Annual Innovation Summit returns on April 26, 2022 with fresh ideas, novel networking opportunities, and a new location. Purchase your tickets and explore sponsorship opportunities today!
We're excited to announce the Home Builders' Association of Metro Denver's 2022 Innovation Summit, to be held at the Denver Art Museum on April 26, 2022 from 1:30-6pm. The event will feature three outstanding local speakers: Mark Sanborn, international bestselling author, Bev Adams, HeartMath expert and entrepreneur, and Tasha Jones, networking and marketing consultant. Each speaker will provide up-to-the-minute content and opportunities to bring fresh and innovative insights to your professional and personal lives.
Following the insights from our dynamic speakers, attendees will enjoy a networking reception with other HBA members, including beverages, and light snacks, surrounded by spectacular architecture and sweeping views of Downtown Denver. A member-exclusive event, the Innovation Summit is an ideal place to interact with the best of the Denver homebuilding community.
One of the most instantly recognizable institutions in Denver, the Denver Art Museum's unique architecture and freshly renovated event space are the perfect fit for this exciting event. General admission to the museum is included in the Innovation Summit ticket pricing, giving you the opportunity to explore the newly renovated Gio Ponti-designed Martin Building, and dozens of world-class exhibits. The museum is open until 9pm on Tuesdays, and the Sie Welcome Center includes The Ponti Restaurant and quick-service Café Gio.
Don't miss this incredible opportunity-purchase tickets and join our esteemed list of sponsors today!