An End to Large Rate Hikes from the Fed?
By ROBERT DIETZ, NAHB Chief Economist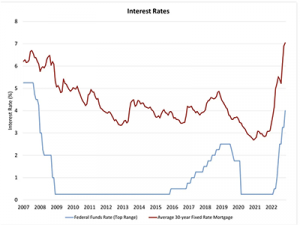 Continuing its tightening of financial conditions to bring the rate of inflation lower, the Federal Reserve's monetary policy committee raised the federal funds target rate by 75 basis points, increasing that target to an upper bound of 4%. This marks the fourth consecutive meeting with an increase of 75 basis points and pushes the fed funds rate to a 15-year high. These supersized hikes were intended to move monetary policy more rapidly to restrictive policy rates. The Fed's leadership has previously signaled they intend to hold these restrictive rates for a substantial period time, perhaps into 2024.
Importantly, the November policy statement also contained hints of a pivot to a slower rate of hikes in the future. While noting that additional rate increases are required to bring inflation down to the Fed's 2% target (with a higher than previously expected top rate), new messaging in the statement suggests a slowing of the size of the rate hikes. The Fed "will take into account the cumulative tightening of monetary policy, the lags with which monetary policy affects economic activity and inflation, and economic and financial developments."
This verbiage indicates the Fed will adjust its future actions based on expected lags with respect to already implemented tightening and will respond to additional signs of a slowing economy. This is a more data dependent and less forecast dependent policy outlook. In general, this policy adjustment is a positive development for housing because the current risk for Fed policy is of tightening too much and bringing on a more severe recession or a financial crisis.
The Fed noted that economic activity is experiencing...  Read More