HBA of Metro Denver's SMC is Gold Winner at Nationals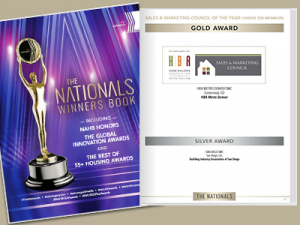 The Nationals Awards winners were announced January 31st at the Nationals Gala in Las Vegas (during IBS), and HBA of Metro Denver's Sales & Marketing Council was named best SMC in the nation for 2022, in its size category.  The Sales and Marketing Council (SMC) of Metro Denver has been named the National SMC Council of the Year in 2013, 2014, 2016, 2017,  2018 and 2022, and a silver medal finalist in 2015, 2018, 2019, 2020, and 2021.   Congratulations to 2022 Chair Kate Pourhassanian and the entire SMC for continuing to drive award winning content, programs and events!
Numerous HBA of Metro Denver members were also honored. See who brought home the gold and silver last night - The Nationals Winners Book is now available online, showcasing some of the best in the country.  View the flipbook here.