2023 Parade of Homes Call for Entries
The Denver Parade of Homes, the longstanding home showcase summer tradition hosted by the Home Builders Association of Metro Denver (HBA), returns August 10 through 27, 2023. Denver's largest showcase of the latest in architecture and home design along the Front Range will again offer guests a chance to tour when, where, and how they want. Virtual home tours return at ParadeofHomesDenver.com and Parade-goers can tour homes in-person Thursdays through Sundays throughout the Parade between noon and 5 p.m.
In 2023, we are excited to continue our media partnership with Colorado Homes & Lifestyles that includes a printed pull-out map that will be featured in the July/August Home of the Year print issue of the magazine alongside a corresponding four-page spread. The popular People's Choice Awards returns for its fourth year as does the continuation of the successful Parade of Homes email newsletter.
The call for entries and invite to sponsor Denver's go-to local home show and design houses tour is now open. There's no better way to reach thousands of potential home buyers and people interested in home remodeling and design who attend this highly anticipated annual event.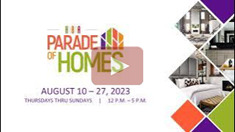 Local builders and developers are invited to participate with new, never-lived-in homes and community spotlights eligible for the Parade. Homes featured in the Parade will range in price from the $400,000 to more than $3 million. Homes in the higher range (base price of $1.2 million and above) will be considered for the category of 'Dream Home.'
Important dates to keep in mind:
Tuesday, May 30: Entry deadline for inclusion in the printed map
Monday, July 24: All home content must be uploaded to com
Thursday, August 10: Parade of Homes opens to the public at noon
Sunday, August 27: Parade of Homes closes at 5 p.m.