Coming soon: Renewal of the General Construction Stormwater Permit (COR400000)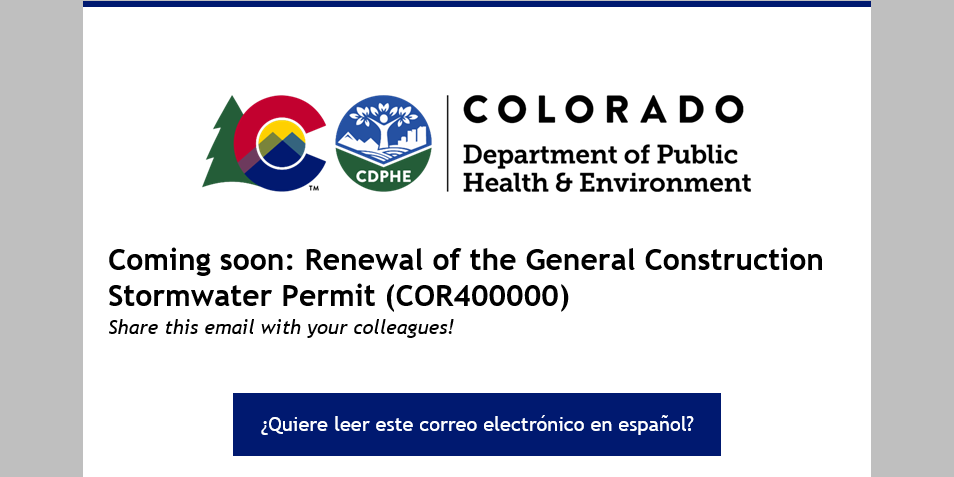 The Water Quality Control Division is starting the permit renewal process for the general construction stormwater permit and we'd like you to participate. Our first request is that all permittees who have not done so claim their facilities in the Colorado Environmental Online Service (CEOS) system.

The division requires stormwater discharges from construction activity to be covered under a permit per Regulation 61. This includes all construction activity that results in land disturbance equal to or greater than one acre, or disturbance of less than one acre of total land area that is part of a larger common plan of development or sale (if the larger common plan will ultimately disturb equal to or greater than one acre).

The current construction stormwater general permit expires on March 31, 2024. Both the current and renewed permit outline necessary compliance with water quality standards via practice-based limitations and requirements. The renewed permit will also include updates made to add clarity. The division expects to renew the permit with an effective date of April 1, 2024.

Over 6,000 permittees throughout the state of Colorado hold a COR400000 permit.
How to get involved
Before renewing the permit, the division will host a series of virtual meetings to get feedback from the community about potential updates to the general permit. These will be announced at a later date. Anyone can give input on any part of the permit including:
Practice-based effluent limits.
Stormwater management plan requirements.
Inspection requirements.
Requirement to claim facilities and renewal application process
The permit renewal process will require all current permittees to submit renewal applications by January 1, 2024. Do not submit a renewal application at this time; the division will inform permittees when the renewal application is available. Prior to renewal, all permittees who have not done so must claim their facilities in the Colorado Environmental Online Service (CEOS) system. All permittees are also encouraged to update any permit contacts in CEOS. For more information, please refer to the Construction Stormwater Permit webpage.
Stay informed
We encourage you to stay engaged by signing up for email notifications. You can also visit the General Construction Permit Stakeholder Engagement webpage.

New subscriber

If you received this email from a colleague and are interested in subscribing to these notifications, please sign-up using our online subscription form and select the topics that are of interest to you. For this stakeholder effort, select "General Construction."

If you are subscribed to other Water Quality email lists, you can update your preferences at any time using the "update profile" link at the bottom of this email.