5 Reasons to Apply for NAHB Industry Awards
14 Different NAHB Award Programs. 5 Reasons to Apply.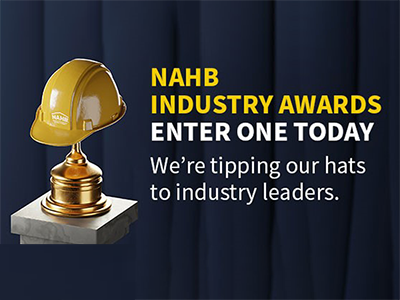 The NAHB Industry Awards celebrate, honor and recognize excellence in the residential construction industry. Check out these 5 reasons to apply for an opportunity to step into the spotlight as one of the best in the industry.
Recognition & Prestige: NAHB Industry Awards are highly regarded and recognized as a symbol of excellence in our industry. Winning an award demonstrates the quality of your work and enhances your professional reputation and positions you as a leader in your field. Receiving an award validates your expertise, professionalism and commitment to delivering outstanding results — a distinction that sets you apart from your competitors and enhances your reputation as a trusted industry expert.
Networking Opportunities: Participating in the NAHB Industry Awards connects you with industry leaders, influencers and fellow professionals to expand your professional network, exchange ideas and build valuable relationships. The connections you make can lead to future collaborations and business opportunities.
Enhanced Visibility: Being recognized by NAHB can significantly boost visibility in the industry through media coverage, social media mentions or features on the NAHB website and your website, social media platforms and marketing materials. This increased visibility can lead to new business opportunities, partnerships and invitations to speak at industry events.
Gain a Competitive Advantage: In today's highly competitive marketplace, it is crucial to differentiate yourself from the competition. Applying for the NAHB Industry Awards allows you to evaluate your work against industry benchmarks and highlight your unique selling points. The rigorous evaluation process prompts you to showcase your innovation, craftsmanship and attention to detail. Your competitive edge can win over discerning clients and make you stand out in a crowded marketplace.
Inspire & Motivate Your Team: Applying for and winning an NAHB Industry Award is a powerful motivator for you and your team. It acknowledges hard work, dedication and craftsmanship, boosting morale and job satisfaction. The recognition instills a sense of pride and accomplishment, creating a positive work environment where everyone strives for excellence. As a result, your team's productivity, creativity and overall performance are likely to soar, leading to even greater success in the future.  Learn More