Shea Homes Breaks Ground on 2023 HBF Inspiration House in The Canyons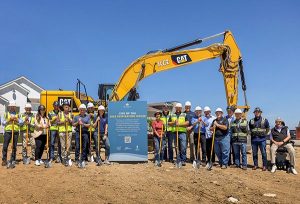 On May 25th, ground was officially broken on the 2023 Inspiration House. Shea Homes is the partnering builder for this year's Inspiration House, which is located on a corner lot with beautiful mountain views in The Canyons at Castle Pines. This is the ninth Inspiration House undertaken since the program began in 2003. The previous eight homes have together raised more than $1 million, which has helped the Home Builders Foundation (HBF) complete home modifications to increase safety and independence for nearly 2,000 individuals.
Each Inspiration House is a collaboration between the partnering home builder and its trades. The participating trade partners commit to donating or discounting materials, labor or supplies and the home builder contributes a portion of the proceeds from the sale of the home. The 2023 Inspiration House is off to a great start with commitments already received from nearly 30 trade partners.
The Inspiration House is a key fundraising initiative for the Home Builders Foundation, which has seen an unprecedented increase in requests for home modification.  In recent months, HBF has received double the number of applications that it typically receives. The donation that HBF receives from the 2023 Inspiration House will be announced at a ribbon-cutting ceremony when the house is completed in late fall.  Read More