HBA Advocate Newsletter | July 6, 2021

CBRC Hosts (In-Person) Roundtable on Denver NZE Initiative
Last month, Pella hosted CBRC's quarterly Builder Round Table on Denver's Net Zero Energy (NZE) New Buildings & Homes Implementation Plan. The main purpose of this plan is to reach net zero energy for all new construction by 2030. The extensive goals are:
• The 2024 Building Code will require net zero energy, all-electric new homes.
• The 2027 Building Code will require net zero energy, all-electric new buildings.
• The 2030 Building Code will require new buildings perform as designed (performance verification).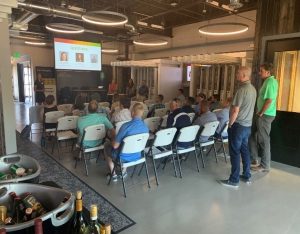 "Education on enigmatic topics is a top priority for CBRC," said Events chair Hayley Selden of Digital Media Innovations. As this is an intensive undertaking that will heavily affect our industry, CBRC members took it upon themselves to gather a panel and inform its members of the upcoming changes. Panelists included Katrina Managan from the City and County of Denver, Hope Medina from Shums Coda Associates, and Steven Forester from DMA Engineering.
"The switch to net zero will have more drastic changes to our industry than code changes in the past. By engaging all parties at the early stages of the switch, we are given a voice while the amendments are being thought through and created. The more informed and prepared the builders, engineers, and architects are, the better we can educate our clients, and the smoother the transition to new expectations from homeowners, the permitting process, and through construction will be," said board member Erin Elston of TKP Architects.
Key takeaway: it's going to be a team effort between the City of Denver and the home building industry to establish the final code requirements. We know it's challenging to both get projects completed and keep an eye on relevant legislation. Fortunately, the HBA is here to be an active voice on your behalf through the Government Affairs Committee, and CBRC is working to ensure all of its members continue to stay informed about NZE and similar regulations.
Broomfield Postpones Second Reading Vote on Reverse Setbacks Requirements for Preproduction Wells
The Broomfield City Council held a study session on April 29 to provide direction to staff on reverse setbacks from oil and gas sites based on their life cycle stage. Councilmembers generally agreed on a 2,000-foot setback for preproduction wells and to exempt properties within proposed setback distances. However, it became apparent this would significantly limit the ability for additional residential development in key areas of the city. During its June 8 meeting, City Council appeared conflicted about the proposal because it would likely negate an 1,800-unit senior living facility being proposed at a time when affordable options for senior residents are at a crisis point in the city. This prompted the council to table a proposed second reading vote until later in July for the preproduction setbacks. Council is tentatively scheduled to work on additional setbacks for production phase and plugged and abandoned wells later this year. Staff indicated that they will continue to develop additional options to the City Council on possible alternatives and exemptions as well as provide an engineer to educate the Council on the risks of plugged and abandoned wells. This will be an issue the HBA will continue to watch closely, and members are encouraged to reach out regarding any potential impacts or concerns they may have.
Denver Updates Excavation, Benching and Shoring Requirements and Required Notifications
Denver has updated its excavation, benching and shoring requirements for IRC Structures, as outlined in Denver's Building Code Policy Admin 130.2A. For our active builders in Denver, this policy change is one that happened very quickly and without sufficient notification. The collective concern is that the new policies will drive additional permitting (timeline and cost) requirements and possibly additional costs/delays in the field. Builders in Denver are already struggling to get permits in a timely manner in order to hit business plan numbers and this certainly is going to further slow down this process. It appears our builders were caught off guard by this requirement, and the HBA is working with the city to see if some temporary changes can be made to give our members an opportunity to adjust to the new requirements. We will continue to keep our member updated on any new developments. In the meantime, additional information regarding notifications of adjoining structures can be found in the DBC IBC Section 3307.1 (page 157) of the Denver Building and Fire Code. The requirements are further outlined on page 6 of the Master and Type-Approved (TA) Permitting Guide.
Denver Accepting Applications to Serve on 2021 Code Committees
The city continues its plans to implement its Net Zero Energy initiative over the course of this year. The objective of the NZE initiative as it relates to the home building industry is to implement a comprehensive update to the Cities ICC code, requiring all new homes built in Denver to be fully electric and net zero by 2024. This means that new residential housing units will have to be highly energy efficient, all-electric, powered by renewable energy and providers of demand flexibility for the grid. Obviously, this represents a monumental shift in the way homes will have to be constructed in the city. The Metro Denver HBA scheduled a subsequent meeting last month with city staff at the Office of Sustainability to discuss what we need to do to make sure our industry is properly represented on any established 2021 Code Committees. To that end, HBA has identified and consulted with qualified members willing to represent our industry on this critical issue. The HBA has recently submitted a letter to the city requesting its appointment to the IRC, IECC, IFC and Denver Green Code Committees. We expect the final appointments to these committees will be made and announced later this month.
HBA of Metro Denver Secures $15K in SLIF Funding to Help Oppose Proposed Denver Ballot Initiatives
A Denver-based environmental group is currently circulating petitions to acquire the requisite 9,200 signatures necessary for two citywide initiatives on this year's ballot. If passed, the Waste No More and Polluters Must Pay initiatives would adversely impact the residential construction industry, including new taxes on homeowners, de facto mandates on residential renewable energy, and new recycling mandates on construction. HBA Metro Denver has already contributed $3,500 to the Colorado Real Estate Alliance to help support initial political research and outreach on the proposed ballot questions.. Additionally, the Metro Housing Coalition (the HBA's political organization) recently approved a $5,000 contribution to support the opposition campaign as well. Both of these substantial contributions from our organization, along with financial commitments from the Colorado Association of Homebuilders, helped persuade the National Association of Homebuilders to make a $15,000 commitment to defeat these initiatives at the ballot box this November.
The initial cost assessment on the homebuilding industry if the Waste No More proposal were to pass is that it could increase the cost per home by at least $3,000 to $4,000. But more importantly, it would also be logistically impossible to accommodate WNM in Denver homebuilding. Challenges include illegal dumping spoiling loads at construction sites, space for multiple bins for different recyclable materials, training construction teams to properly separate recyclables, and a lack of sorting facilities and waste diversion infrastructure needed to handle recycling construction materials. The closest example of recycling facility needed is a facility in Anaheim, California, which cost $40 million to build.
Town of Erie Evaluating Reverse Setback Proposals
The Town has begun studying potential changes to its oil and gas ordinances with particular interest in O&G setbacks and reverse setbacks. The first issue came before the Board of Trustees on March 9, where a number of issues related to setbacks, air-quality monitoring and coordination with other jurisdictions was discussed. In May, we received an overview of the various proposals from Planning Director Fred Starr, which included everything from additional notification requirements to additional hard setbacks from oil and gas facilities at different stages of production. On May 5, the HBA hosted a meeting with active builders in Erie to discuss the potential impacts and preferred outcomes. On May 28, the HBA submitted formal recommendations that generally supported the concept of additional notification requirements but highlighted the potential impacts if a proposed setback of 500 feet from existing wells and a 150 setback from plugged and abandoned wells were to pass. This included a significant loss of future homes and millions in future fees and tax revenue for the town. In some cases, a setback of this size would threaten the viability of entire residential developments in Erie that have been planned years in advance. On Monday, June 21, the HBA reiterated these concerns during a virtual townhall that focused exclusively on this topic.
Lakewood City Council Considers Changes to Metro Districts
On June 21, Lakewood City Council held its third round of discussions centered on metro district reform. Council is considering a series of proposals that include adding guardrails to metro district service plans, additional disclosure and governance requirements, limits on fees and mill levies, and an outright ban on new districts. HBA staff has held a series of meetings with members of the Lakewood City Council on the proposed staff recommendations. The first two full council study sessions presented the Development Dialogue Committee's initial proposals on March 15 and April 19. The third Council meeting last week was intended to find some consensus and provide general direction to municipal staff to finalize a draft ordinance for consideration. Prior to last week's Council meeting, the HBA submitted a letter to the Council and appropriate staff addressing our main points of concern. Based on feedback we have received during conversations with Council members, we are optimistic that our most pressing issues will be resolved and that City Council will not pursue a general prohibition of metro districts in Lakewood.
HBA of Metro Denver Issue Tracker
Questions on what is happening in a specific city or county? The HBA is regularly monitoring the council and board activities in every political subdivision in the metro Denver area. Our Issue Tracker offers a great resource to learn about the issues being deliberated with links to agendas, packets and ordinances. The HBA of Metro Denver HBA Issue Tracker is available to all members here.
All of the HBA of Metro Denver's Regulatory and Technical Committees are meeting regularly – Join today and make your voice heard!
As a volunteer-driven organization, the HBA's Jobsite Safety Committee, Permitting Committee, Regulated Utilities Committee and Stormwater Management Committee help guide the HBA's events and activities throughout the year. Consider joining one — or more — if you want to build strong, long-lasting relationships and make a difference to your fellow HBA members, while sharpening your leadership skills. Please visit the HBA website for more information or reach out to Morgan Cullen if you are ready to participate.